Inspire and Influence Positive Change!
Wouldn't it be great if people would do these things more?  Or, at all?  Your boss, the CEO, co-workers, spouses, kids, parents, in-laws, people driving? The reality is that we cannot control what other people do or say.  We cannot make them CARE.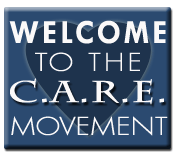 What WE can do is practice the CARE principles and live this example for others to see.  One person, one voice, one action, can make a difference.  Being Positive and Caring about others is contagious. Studies have shown that the mirror neurons in our brains actually mimic the feelings and actions of those around us.  When you smile at someone, their brain tells them to smile back at you. We also think and learn better when we are feeling positive.
It takes only one person to ignite a spark, raise a voice, shine a light, give hope, smile, listen or say thank you, congratulations, awesome job.  It takes caring.   Ghandi said,"Be the change you want to see in the world."  Now, is the time.  Let's make a conscious effort to be part of positive change, of the solution – "The CARE Movement." We can make a difference, one day at a time, one person at a time, one company, one home, one school, one church, city, state, nation – one world.
The CARE movement is not a definition or destination.  It is an opportunity and an obligation.  We all need to earn our living, but we can also choose to make a difference.  Let's start today by showing someone that we CARE!
Join The CARE Movement (above) and make a difference.  Sign up to receive weekly posts and words of  CARE and support.  Feel free to check out the rest of our website for encouraging quotes, and recommended reading on how we can share the message. We are here to help and assist you.  Contact us via email or call for more information on how the movement can come alive within your company, organization and family.  Al really enjoys speaking to groups of all sizes, sharing his story and being an Influence for Positive Change.