guest blog post by John Sherry

It's a well known phrase used the world over.
Your body is a temple.
Many would agree but treat it as a leisure centre instead using it for all manner of fun, play and subtle abuse.
I'm often amazed that people come to me for help with their sports performances yet it's glaringly obvious that they're game is sluggish because the way they treat their body is the same. If you let an Indy Car go to rust expect it to spill oil and fumes all over the shop.
Humans are also lean mean fighting machines, but need to have the kind of care a Rolls Royce or Lamborghini would get so they stay that way.
Too many people spend most of their time caring for and about others but ignore the No.1 individual who needs all the love, respect, and support in the whole world. Themselves.
So, if you ever want to truly care that's where you have to start.
Caring about yourself.
Here's a few self-care pointers that ensures you're building a bodily temple worth worshiping.
Fuel – Your engine needs the type of octane input that keeps it firing on all cylinders. Bad fuel, poor performance. Feed it the best you can. Fuel (food) that is as packed with freshness, nutrients, and variety as possible. Add to that ask yourself often why you are eating what you are currently devouring. The answer to that will leave a clue as to whether you are powering up your system or harming it.
Movement – Getting up to change the TV channels isn't it. Your body needs air in the lungs, oxygen in the blood, and activity in the muscles. It needs to work to keep it in peak shape and functioning at optimum level. For that you've got to get on the move – some dynamic motion. Forms of exercise that will do nicely will be walking vigorously, some form of sports, gym work, or even up and down the stairs fast, ten times a day.
Breathe – whilst this is a natural facet of living as a human, virtually all people do so only at the most basic level to survive. Rarely do most of us breathe fully and healthily even when we're not sweating it out with exercise. Ultimate body management and endorphin creation involves long, deep breaths of good air numerous times per day to power up the lungs and spread good oxygen to every cell of your system. You can breathe to survive or breathe more to thrive.
Appreciate – your body can't be traded in like an iPhone for the latest model or as a downpayment on a slick new auto with your existing one. It has to last for life, 'cause, well hell, it was made for life, not for a few decades! So, love and appreciate it enough so that it will last as long as you last. Pamper it, adore all your bits whether they wobble, flop, or turn heads, rest it, replenish it, and learn to listen to it. It's heaven made in human form.
Caring makes the world go round. It's love expressed in another power packed manner.
But love starts with you yourself.
You have to be worth it before others are worth it. You don't get to be left out. You teach a message that I value and respect my body 100% so, therefore, I also will respect and value you too. It's potent and clear for all to see..and to respond to for themselves.
You become that shining example!
When you take care of No.1, every other person gets the benefits too.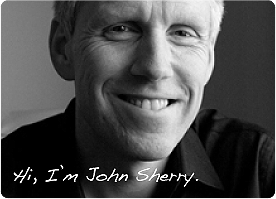 About Today's Guest
Today's guest is John Sherry, a Sports Motivator helping everyday people to make their sports dreams come true. He writes a blog with free tips on sports motivation at 100%Champions.com. Drop by and take your sports to the next level.