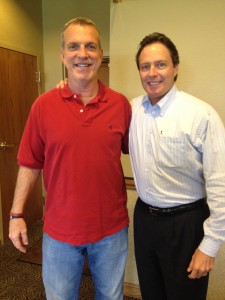 After a crazy November, and incredibly successful guest blog series, (Thanks again everyone) I decided to drive down to my hometown of Ft. Lauderdale, Florida.  So glad I did.  What a great trip.  I left real early on a cold Friday morning.  I contacted Bill Dorman the day before, out of the blue to see if he might want to meet for lunch.  He said sure. It was a little off my path, but as some of you know, Bill is quite worth it. Ha.  We had a great time and he even bought my lunch.  What a guy.  It was really good to meet him in real life.  Squeezed in as much as we could and he was back to work and I was back on the road.  By talking with him and his great guest blog post here, Bill definitely CARE's.   
Saturday night, I had the pleasure of attending the "Big Mama – Team of  Life" 10th anniversary party/fundraiser.   An incredible event that collects $10 toys for needy children at Christmas time.  (You can still contribute) This event was hosted and started by two dear friends of mine.  Dr. Elizabeth King  and John Weaver.  John and I go back 40 years.  Wow.  He is a very kind and generous man and his beautiful wife, Elizabeth, has a huge heart.  Such selfless and giving people.  They definitely CARE.  More on Dr. King and her radio show later.
Also at the event I had the pleasure of meeting Debra and Sharon with the Zoo Health Club at Ft.Lauderdale Beach.  Both incredible ladies. Sharon is an ex fighter and teaches classes at the gym.  Her husband Aaron, who also works at the gym, gave me some great stretching tips to help me with a nagging leg/hip problem.  Really nice people who CARE.
Sunday was a jazz brunch on the riverfront with friends. Football watching and a nice Italian dinner with Maria, a long time friend who is beautiful inside and out. Her family is too.  I usually have the pleasure of staying with them.  Her husband Fred, aka Rico, is hilarious.  They have two great kids, and they all CARE.  Oh yeah, the pool and Tiki Hut don't hurt either.  Recorded my first video under the Tiki Hut.  Video will appear here soon.
Speaking of Rico, he, Roy Boy and J.O. took me golfing Tuesday.  Wow.  Not good.  Had not played in awhile and it showed.  But it didn't matter.  As usual, we all had fun.  These guys are all from New York and the verbal abuse is relentless. (In a good way) Too funny.  Oh yeah, the three of them are also firefighters/paramedics.  They make a difference every day.  They definitely CARE.
On Wednesday, I was fortunate enough to have lunch with a future superstar in the life coaching field.  Beatriz Alemar is a young lady that is full of energy and passion to help others.  I guess being 25 helps.  I met B at an event in Atlanta, this past September.  Not only is she adorable, she lights up a room with her smile and enthusiasm for life.  She is on a quest to help other young people find their true path to success.  Make sure you follow her and check her out.  She CARE's.
Thursday, I was a guest on Dr. Elizabeth King's radio show. (pic) It does help to know good, nice peopl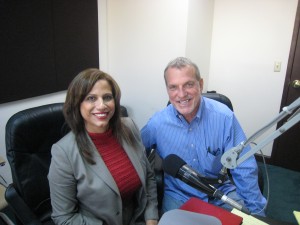 e, with their own radio show.  She interviewed me about The CARE Movement.  It was a lot of fun.  The link to interview is here.  I would love to have a radio or a tv show, about CARE.  Anyway, her other guest was Dr. Kimberly Frangione, the founder of "The Gratitude Token Project."  Go figure.  So cool.  Tokens for "thank you" and "pay it forward."  Love it.  Kimberly is awesome.  Both of these women, really CARE.
Friday was my last night, so I went and hung out with three of my best (long time) friends.  Gary, (35 year friend) who was kind enough to let me stay at his house the entire week.  What a great week.  Thanks again, Gary.  Bubba, who I have known for almost 40 years and J C, who has been a great friend (28 years) and past roommate.  I lived with J C, through one of the roughest stretches in my life.  He was always there.  Thanks to all three of these guys, for being life long friends.  They don't always say it, but I know they CARE. 
A long drive back on Saturday to reflect on all the blessings in my life, the gratitude I feel and the truly wonderful people I have met along the way.  What a week full of CARE.  Wow.
So, who do YOU Care about ? Who Care's about you ?  Or what do you Care about ?  Please share your thoughts.  It's important to recognize and appreciate people who encourage and support you.  They don't have to be on line, on twitter or even facebook.  Especially this time of year.  Just tell them Thanks.
Don't wait until the funeral to send flowers.  Let them know. Tell them. NOW.
I appreciate you so much for all your continued support.  I know YOU CARE.  Thanks.
 Al