guest blog post by Mark Sanborn
There are dozens of wonderful ways to view your relationships and potential relationships. Mine is based on the simple concept of inputs and outputs. What's coming into your life from other people, and what are you sending out from your life into the lives of other people?
The "other people" are all those you know or come in contact with—your family, your friends, your coworkers, your customers and clients, your community, your waitress at the diner . . . everyone. When you produce something of value, others benefit. Who are those people? And who are the people who impact the value you create?
You don't treat all these people the same, of course. You probably won't ask the waitress at the diner for advice on a career opportunity (although you might) and you probably won't ask your boss for advice on your love life (although you might). Each relationship is unique. But two interconnected concepts are foundational to managing any relationship: love and service.
When you put those two things into your relationships, they will come right back out, but in this case two plus two doesn't equal four; it equals something much more, because you've created a loyalty that becomes a multiplier.
You've probably heard it said that everyone in every organization is in sales. But selling doesn't create a customer. Selling creates a transaction. Service—how we treat and care for that person—creates a customer. Without the customer, all is lost. Remember: no customers, no profit. Know customers, know profit. So making a connection with the customer becomes vital to the initial transaction and, more important, to the continued loyalty for your organization or brand.
Likewise, service sets the foundation for all your other relationships. How are you serving your spouse? Your children? Your friends? Your employees? Your boss? Your board of directors? Your church? Your community?
As you process your service to others, keep in mind two things:
Know those you serve. Know what they value. Understand their scoring systems. For instance, how is your boss scoring your work performance? And how are your customers scoring your product?

When I work with clients on customer service challenges, there are three questions I tell them to ask their customers: What do you like most about doing business with us? What do you like least? And what do you tell others about our company? You can repurpose those questions for most of your relationships to help you assess the needs and expectations of the people you are serving.

But don't stop there. Keep learning as much as you can about the people you are serving and the people who serve you. This requires moving beyond small talk to the deeper issues in people's lives. Challenging ourselves to really know people is unusual in our culture. It's far too easy to judge people by how they look or act rather than doing the hard work of understanding why. But you can't fully serve people you don't fully understand.

Few organizations live this better than HEB Grocery, the Texas-based chain with more than three hundred stores that's known for its superior service. The chain prides itself on a creating a culture of "restless dissatisfaction" and a drive for thinking like its shoppers.

Managers in the Rio Grande Valley, for instance, once noticed an annual spike in the sales of rubbing alcohol. They didn't just increase their stock during that time of the year; they figured out the reason for the spike: customers who couldn't afford air conditioning used the alcohol to cool their skin. That led HEB to partner with manufacturers to create its own brand of rubbing alcohol that included moisturizers so that it wouldn't dry out the customers' skin. The product soon made up 25 percent of HEB's rubbing alcohol sales.

Make it about them. The Rotarians have a great motto: "Service above self." It's an ideal each of us should adopt in all our relationships. We need to look at others and put their needs above our own—in personal relationships as well as business relationships. As Philippians 2:3 puts it, "In humility value others above yourselves."

I recall being on a panel with Alan Weiss, a fellow speaker and consultant, when he said, "At the end of the day, it's about improving people's condition. You make their situation better." He was talking mainly about customers, but the point transcends customers and applies to any relationship connection.

If you think you are serving someone (your spouse, your boss, your coworkers, your friends) and they don't feel like they're being served, then you need to adjust your service to their situation. Get to know what they really need and put their needs ahead of your own. And do it not out of hope for gain but because it is the right thing to do. Whether you benefit from it is secondary.

Truly caring is about more than how you feel about others; it is about what you do to demonstrate that concern and compassion through service.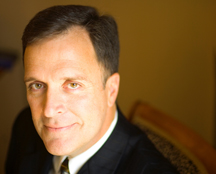 About Today's Guest
Today's guest blog post is an excerpt from Mark's new book, Up, Down or Sideways: How to Succeed When Times are Good, Bad or In Between. For more information about the book and to get some great free resources, visit Mark's website.
Mark is the president of Sanborn & Associates, Inc., an idea lab for leadership development.  Leadershipgurus.net lists Mark as one of the top 30 leadership experts in the world. In addition to his experience leading at a local and national level, he has written or co-authored 8 books and is the author of more than two dozen videos and audio training programs on leadership, change, teamwork and customer service. He has presented over 2400 speeches and seminars in every state and a dozen countries.