guest blog post by Jack B
Gratitude
Gratitude.  I keep repeating that word over and over. It is my silent mantra and one that I hope will help me change my current attitude.
 That is because at the moment I have a bad attitude. I have a long list of grievances that are chapping my hide and am frustrated because instead of shrinking the list seems to be growing.
 I won't talk to certain friends about it because I don't want to hear about how it can always be worse. I know that. Fact is that someone very dear to me just lost her father to a terrible disease. Another friend lost her baby and someone else I know lost her sister and mother in September.
 Lost being the euphemism I am using for death, that is.
 So I know damn well that it could be worse and I am just not interested in hearing about it. It is not helpful and it is not going to make my crap disappear.
 But I am a father and I don't get to go to the local dive bar, get drunk and start a barroom brawl. Got to tell you that there is a part of me that sort of wants to try that but there is a much bigger part of me that doesn't like getting hit and isn't willing to deal with the hangover that comes with it.
 Besides if I want to engage in major acts of stupidity I can think of things that are far more fun and far less painful than that brawl I mentioned. You should really just pretend that I never wrote about it, or if you must focus upon it blame it upon having seen too many Westerns.
 If you watch enough of those you can't help but want to have the chance to break a bottle on some cowboy's head or break a chair across his back. And of course you have to throw someone through the window or the swinging doors.
 Call me selfish, juvenile or whatever you want but I would be grateful for the opportunity to do those things without getting hurt.
 So let's circle back to that word again. Let's form a posse and try to capture the sometimes elusive feeling of gratitude and figure out how to make it meaningful.
 That is something that I do every day. I work hard to find ways to make the important things meaningful to my children. I work hard to find ways to make sure that they can relate to the values that I think are important. I work hard to try and find ways to help them become productive members of society.
 Maybe that is my angle because just thinking about my kids takes the edge off of me. Just thinking about them reminds me that there is magic in the world and I get to see it every day.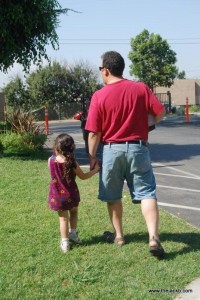 Because every time I see them smile or hear them laugh-it is magic. And every time I do I remember that maybe it is not so hard to be grateful after all. Sure, things could be better but they could be a whole lot worse.
 Gratitude- it is a word that I am trying to live by.
The Jack B. is a writer and author of 39 unpublished books and three screenplays. A former athlete and would be superhero he still fights for truth, justice and the American Way. Though he may look like a grown man, don't fool yourself, he is still a boy at heart. When he is not engaged in Walter Mitty like fantasies he is a husband, father and friend and blogs at TheJackB
"When you're in jail, a good friend will be trying to bail you out. A best friend will be in the cell next to you saying, 'Damn, that was fun'." — Groucho Marx
Other places to find Jack:
Random Thoughts -  Do they have meaning ?
Twitter: http://twitter.com/TheJackB