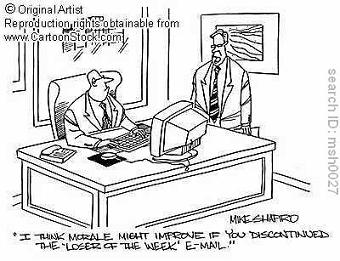 "People don't care how much you know, until they know how much you care."
 Wow.  How true is that?  I love it and it's a good one to remember.
 Ok. This post is for everyone, but especially for all CEO's, HR directors, managers and any and all bosses around the world.  Parents, you can substitute the word "children" for employee. It applies in most cases.
  I know the topic of employee morale has been brought up, written about and discussed a lot lately and with all the doom and gloom being spread, the job market situation and the state of the economy in general, we desperately need it.   A lot of the things I have read on the subject are great and make a lot of sense and are written by people a lot smarter than me.  This is just my take, based on experience.  No better or worse.  These are merely suggestions, not instructions. Enjoy.
 You all know I love acronyms.  (The CARE Movement)  They have always helped me remember things better and I need a lot of help (no comments, please).  So today we will use the word REAL. Yes, Get REAL. I have more than one word for some of the letters. Just try it. It's gonna be fun.
 R.E.A.L.
 "Catch them doing something RIGHT" – Ken Blanchard
 Respect, Recognize, Reward and Remember  –  All people want to be respected and recognized.  The key to this is to do it in front of other employees.  Public recognition and reward for a job well done go a long way.  Remember your employees names.  Very important.  Everyone loves the sound of their own name.
 Praise and encouragement cost nothing to give but the benefits are priceless.
 Encourage with Enthusiasm and be a great Example  -    Praise and encouragement cost nothing and the benefits are priceless.  Do it.  Practice it.  Most employees play "follow the Leader".  They mirror what they see.  Your attitude effects the entire team and company (especially CEO's).  Be an example.  Smile. (not a fake one, either.)  Those are horrible.  Employees can see right through that.
The old saying is true; It starts at the top. The ripple affect applies.  Be Happy and Positive and watch it spread through the company.
  Treat your employees like they are your Best customers.  They are.
 Appreciate, Acknowledge, Accept  -  Like recognition, everyone wants to be appreciated and acknowledged.  Sometimes just a pat on the back or a "job well done" will suffice.  Let them know that YOU know.  The more you do this, the more you will get out of your employees. This next one is tough.  Accept the fact that you do not know everything.  We all need to remain teachable.  Anyone can teach us anything.
  Your employees have a voice and it needs to be heard.
 LISTEN  and LISTEN some more  -  Saved the best for last.  Please Listen carefully. Sometimes, Be quiet.  We all want to talk, show, teach, whatever. Blah, Blah, Blah.  Your employees have a voice and it needs to be heard.  If you are not hearing it, (trust me) they are talking amongst themselves and it probably isn't good.  Have employee meetings, where they are encouraged to voice their opinions.Have an open door policy (or email box for comments, suggestions, complaints)  whatever way you choose.  Just let their voices be heard.
Ok.  What do you say?  What's your experience been like?  Are you a boss or employee?  Parents? Chime in.  As always, I am looking forward to your comments, feedback and suggestions.  Thanks again for your continued support of The CARE Movement.  Please subscribe and stay in touch and go Like our Facebook page, if you so desire.
Check out our CARE Services page and call or email me to discuss how you can get REAL and bring The CARE Movement  to your place of business.
 Always remember to CARE and Share. PASs it on.  Next week: A Challenge.
 Al