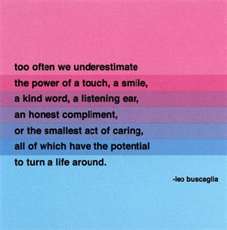 Decide to make a difference.  Really go out and "Inspire & Influence Positive Change"
Focus on the HOW acronym. Honest, Open-mind, Willing; and Help Others Win.
Practice Gratitude.  So many things to be grateful for.
Keep a Positive attitude throughout the day.  No matter what.
Remove my ego from all situations.  When I do, I can be "A Part Of" rather than "Apart From"
Smile.  All day.  Or at least until someone smiles back.  Ha.
Acknowledge as many people as possible.  Engage and say hello to all in my path.
Call someone on the phone.  Not just communicate, but actually connect with another human being.
Listen.  Completely give of myself. Value the person enough to really and truly listen.
Pause, when I feel agitated or want to say something that doesn't need to be said.
Be Patient, Kind and Tolerant.  Especially when driving my car.  (Oh boy)
Appreciate someone.  Tell them they are great and doing a fantastic job.
Respect everyone I come in contact with, regardless of financial status or job.
Encourage someone who is struggling.  We all do sometime.
Forgive someone.  And remember; "Forgiveness is letting go of all hopes for a better past"
Reach out to someone and offer assistance.
Share some knowledge that someone has passed on to me.
Be Optimistic.  Believe it can get better.  Believe It WILL get better.
Persevere.  No matter what. And remember; "You can't have a testimony without a test"
And I will NOT….. 
Judge others.  And remember; "To be happy, all I have to do is give up my judgements"
Be Negative or pessimistic.  There is enough of that in the world already.
The CARE Movement is all about making a difference and helping others.  We want to improve morale in the workplace and at home. 
We also want to "Inspire & Influence Positive Change" 
I have to remember that it all starts with the man in the mirror.
What do you think ?  What are you going to do today ? 
I look forward to your comments.
 Al