guest blog post by Dana Reeves

This is a story about love … the love between a husband and wife; the love between brothers and sisters; the love between friends; and the bond of unconditional love between a mother and her children. This is also a story about loss – and loving someone so much that you are able to say goodbye and let them go.
My Mom – Francine Bender – died on November 4, 2011, after a long battle (almost five years) with cancer. I said goodbye to her almost three weeks ago … just three weeks ago … Already. Three. Weeks…
The emotional tug-of-war I experienced throughout my Mom's illness and eventual death was (and still is) dizzying. There have been moments of fear, incredible sadness, denial, guilt, anger … moments of such suffocating despair that I pray for the strength to ignore the lump in my throat, just so I won't have to deal with the gut-wrenching pain of my tears. Yet those moments have been far outnumbered by the gifts I, and others in Mom's life, received: hope … joy … gratitude … unconditional love … respect … understanding … cherished memories … forgiveness … reunion … acceptance … peace.
There were times I intentionally stayed away during Mom's illness, simply because I didn't know what to do with the mosaic of feelings rolling around in my heart. What I've realized is that I have actually been grieving the loss of my Mom for years – really the entire time she was sick. Between the treatments at the cancer center, the scans, the hospitalizations, two times in a nursing home, the cancer spreading to her bones and eventually her spine, the bed sores, the staph infection… There was this constant undercurrent of anticipated dread surrounding our family. We knew that each set back took a little bit more of her from us. We knew that each holiday or celebration or visit might just be the 'last'.
And Mom was grieving too … the loss of her health, independence, energy … her inability to do the things that meant the most to her: going to the store just to 'window shop', going out for a special meal, cookouts at my brother's house, going to watch a play or an ice skating exhibition, working in her flower gardens, talking to the family of hummingbirds that come home to my parents' house every spring and summer, swimming in the pool, going to the beach, decorating the house for each and every holiday (she had a knack for that!), baking Christmas cookies, holding her grandchildren…
I've been mourning not only what was lost, but also what will never be. I'll never feel her arms around me again. I can't pick up the phone and call her to tell her the latest developments in my teenage son's life, or just to hear her voice. I won't get to play the piano for her again. But I will carry her with me – like a 'handprint on my heart' – for the rest of my life. I'll see her in all the little, everyday things … photographs, home movies, the angel statues on my kitchen windowsill, the birds that have started hanging around our house, the scent of her favorite perfumes, the Godiva chocolate shop, and every time I see a can of Nestea at the grocery store.
Now, of course, I yearn for any amount of time to spend with my Mom. Time to just sit and hold her hand, to tell her what I admire about her and how much she taught me, to learn more about her as Francine 'the person' instead of 'just' Mom. Her favorite stories to tell us were about what it was like to raise five children – those were the times her eyes truly lit up.
Mom was proof that a mother's love knows no boundaries or dimensions. She loved each of us with her whole heart. When we joked with her about who was her 'favorite', she answered by saying that she loved each of us differently, but equally – 100%. Of course we said that loving each of us 100% was impossible, that surely it had to be split up between us. Her explanation? "When God gives you a child, He makes your heart bigger to hold more love." What a beautiful thought!
During Mom's final days, I felt God's love – and the angels – all around us. They were keeping vigil with us, standing guard, protecting our hearts, healing our pain, creating safe passage for Mom from this world to the next. We were truly on sacred ground. All the moments we shared as a family danced through my mind during her final hours on this earth, and I knew I had to find a way to tell the story of her love for us.
I created the following video to remind those of us left behind how full of life, love and laughter she was – and to shine a light on the relationships and the connections she had with each of us. Because isn't that what life is really all about?
My challenge for you today is to shift your thoughts to what's truly important. Don't wait until someone's gone to tell them how much you love them.
> Every moment is the right moment to connect with the people you love, and to tell them how much they mean to you, that you care, and that they make your life better just by being in it.
> It's never too late to ask for – or give – forgiveness.
> It's always the right time to reflect on the treasured memories you carry in your heart.
My Mom found miracles in the most unlikely places, situations, and people – and she helped me learn how to do the same. There are joys, blessings, and magic to be found every day – you just have to open your eyes and make the time.
And the time is right now.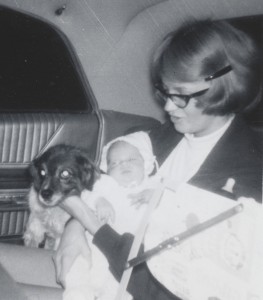 About Today's Guest
Dana Reeves is a marketing luminary, writer, visual artist, and producer whose superpowers help people and businesses tell and share their stories through many different platforms. She lives in Atlanta, Georgia with her husband Joel, their son Taylor, their dog Lucy, and a sweet collection of vintage arcade and pinball games. The picture above is of Dana's Mom bringing her home from Catholic Charities adoption agency in Minneapolis, Minnesota – July 1967.
You can connect with Dana on Twitter (she's @DanaReeves), Facebook or visit one of her websites to see her ADHD in full swing: DanaReeves.com, WillowTreeMarket.com, and HandprintOnMyHeart.com.