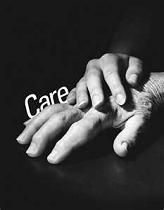 Hi there.  Yes I know it's been awhile.  But I'm baaaack.  Happy Halloween!
The first thing I need to do is recognize a special person who shows how much she cares every day, my sister Terry.  She is not on Twitter, very rarely on Facebook.  She does not blog.  She does not seek the spotlight.  She just cares. 
I am proud to be your brother.   Thank you so much for all you do.       I love you.
Now, I am so excited to announce our November guest blog series at The CARE Movement.  The lineup of friends, bloggers, authors and speakers is very impressive.  What I am more impressed about is how all of the guests continue to show their support and encouragement for me and The CARE Movement.  For that, I will be eternally grateful.  Thank you so much.
Ok.  Here's what we are going to do.  Every weekday for the entire month of November, (that's Monday – Friday with the exception of Thanksgiving) we will have a different guest blogger.  We will kick it off tomorrow with one of my favorite authors and speakers, Mark Sanborn.  I think Tuesday will be awesome author and speaker day.  Following Mark, on Wednesday, the 2nd will be Frank Jennings. Thursday will be a very talented writer, Nancy Davis and finishing up our first week, from across the pond, my friend John Sherry.  Pretty nice first week, huh ?
Some of our future scheduled guests include, Kaarina Dillabough, Craig Mcbreen, Claudia Anderson, Barbara Klein, Ted Coine, Dana Reeves, Ameena Falchetto, John Falchetto, Bill Dorman, Gini Dietrich (if she cares) and finishing off the month with two young men that have helped me so much; Marcus Sheridan & JK Allen.  I can not say enough about the constant support, guidance and encouragement these two guys have shown me since this whole process began.
Also, authors/speakers, Shawn Achor, Jon Gordon and Bob Burg will be contributing.  We may have a couple of surprises as well.  So stay tuned and if you have not subscribed, please feel free to do so.  Thank you again so much for all your support.  I know that you and all our future guests really do CARE.
The 20 or so guest bloggers that will appear here are just some of the many, who have been supportive of The CARE Movement.  I hope to do this 3 – 4 times a year, with 20 different guests.  Thank you.
 As always, I look forward to your comments throughout the series. 
 Al