guest blog post by Ted Coine
Transform Your Business in One Simple Step 
 Can one miniscule change in behavior transform your entire company? Can this small tweak make it a better place to work? A better vendor for your customers?
 Can one little change make your company more profitable?
 I believe that it can.
 When I was researching the habits of customer service leaders for my first book, Five Star Customer Service, I came across The 15/5 Rule as part of standard training in several of the most renowned luxury hotel chains. It's one of those basic things that most of us never really put a name to before, but leave it to the best of the hospitality industry to nail it!
 What do you do when you walk past someone going the other way in one of your company's hallways? When do you say hello? When do you smile and nod? When do you just go about your own business and let them continue with theirs, unmolested? The 15/5 Rule provides you a simple, easy-to-teach rule of thumb for this nagging little question.
 Here's how it works. When you're within 15 feet of another person, acknowledge their presence with a smile and some other gesture – a nod, for instance – that shows you're glad to see them. When you're within 5 feet, add a kind word; "Hello" will do, though "Good morning" or "Good afternoon" are probably better.
 If they're farther than that 15 feet from you? Nevermind. You're good. Although if you make eye contact with another person, it's always good manners to smile.
 This is a policy for staff to employ to make guests feel welcome. It's one more way among dozens for a chain like Four Seasons or The Ritz Carlton to say to its guests, "We know you could stay at our competitor just down the street. So we want to thank you. You matter. You, Mr. or Ms Guest, are why we're in business."
 What I've noticed about hotels that pull off the best service is, they don't just reserve practices like the 15/5 Rule for their paying guests. Recognition makes just as much difference in the back of the house as it does in the front. And what I've observed most clearly and undeniably is this: if you show me how an executive applies (or ignores) the 15/5 Rule with those lower on the org chart, I will tell you how that particular hotel is perceived by its guests.
 …All of which brings us to your company. Ever since I learned that this aspect of "common" courtesy and simple human validation has a name, and is easily taught to new staff no matter their background, I've had a keen eye for it among the companies I visit. And it astounds me what a vast gulf of difference there is from one company to the next, often even within the same office building! There is even a remarkable degree of difference from one department to the next within the same company.
 Even after I share this tip, some people don't see the point. Some companies don't have a culture of simple human validation. Some leaders are "too busy with important leadership issues" to acknowledge those around them.
 I guess. Although to me, the idea that there is any leadership issue more important than one's own workforce is a dangerous thought; the kind of thought that drives a company to ruin.
 The 15/5 Rule is simple. It's free. And implemented thoroughly, it will transform the culture of your business from wherever it is today to one of remarkable acknowledgement, validation, and possibly even esprit de corps. That, and not "busy-ness," is how to build a thriving, profitable culture.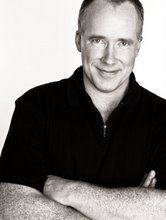 Ted Coiné is one of the most influential business leaders on Twitter, with a following of over 100,000 and growing rapidly. His blog, http://tedcoine.com, focuses on leadership, culture, customer service, and the effect of Social Media on the business world – the same themes that inform his next book, Catalyst. He is a frequent guest blogger, appearing regularly on the Sustainable Business Forum and 12 Most.
An inspirational speaker, Ted is author of Five-Star Customer Service (2005) and Spoil 'Em Rotten! (2007). Prior to writing his first book, Ted was founder and CEO of Coiné  Language School, a B2B company he brought from his living room to a $10 million valuation in four years by focusing relentlessly on customer service.